Mauser 98 Military & Sporter actions Pillar bed black 98000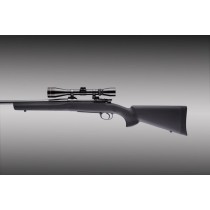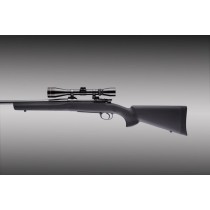 Hogue's revolutionary O.M. series stocks (Pat. Pending) are made similar to their popular rubber grips. Constructed by molding a super strong, rigid fiberglass reinforced stock that precisely fits the rifle action. This small "stock" or "skeleton", is then completely OverMolded with the same rubber compound used on Hogue grips. The skeleton or insert, as it is called, chemically as well as mechanically adheres to the rubber resulting in a permanent bond between the rubber and the insert. The super strong insert not only gives the stocks their strength but the precise molded dimensions provide a perfect drop in fit of your rifle action. OverMolding with rubber is superior in every way and provides the ultimate in a comfortable, non slip, super smooth attractive finish, that is durable and extremely quiet.
Features include; a sleek straight comb, palm swells and a 'varminter' style forend which are treated with a unique 'Cobblestone' texture. Hunters especially will be attracted to the incredible quietness of these stocks coupled with lightweight, superior non-slip comfort, and accuracy. Centerfire rifle stocks all come equipped with the finest in recoil pads. Hogue recoil pads are formulated and molded from a 'super cushion' blend of recoil reducing materials that rivals and even surpasses any other pad available. Special material coupled with computer designed, internal cushion structure provides outstanding recoil control and shooting comfort.
- Drop in fit for "sporterized" M98 large ring Mauser. Will expressly drop-in fit virtually all M98 trigger mechanisms factory or aftermarket with no modifications.
- Barrel channel will free float most #2 and #3 taper barrels.
- Stock relieved for bent down or bent down and swept back bolt handles. Straight military bolt handles will also function in stock.
- Floor-plate is cutout for shorter FN floor-plates without lock screw on front tang.
- Floor-plate inlet relieved for push-button style hinging box magazine door.
- Screw hole spacing for floor plate/trigger guard is 7 13/16" center to center
*** Also fits Zastava models but some grinding/cutting is invlovled to fit the safety catch. Also for some Parker Hale models.
Only a limited amount of stocks available online. More added weekly. Postage $25.